You want to start with lettering, but you've got no idea, what to write? On this page you'll find a lot of inspirations for your hand and brush letterings!
I decided to put lettering quotes with the same amount of words together. That means, that you'll find letterings concerning different subjects in each group. Because of this it is possible to look for ideas for short and longer letterings.
Tip: At the beginning it will be easier to concentrate on hand letterings with a small amount of words.
At the end of this article you'll find some quotes based on subjects, too.
Random quote
You don't want to look for a special quote? No problem! Use the random quote generator to get a nice hand lettering quote from my list!
Click the button for a nice random lettering quote.
1 word
I'm a total fan of one-word letterings. With a few flourishes and some decoration you can create stunning hand letterings, which are also great as a print or in a picture frame.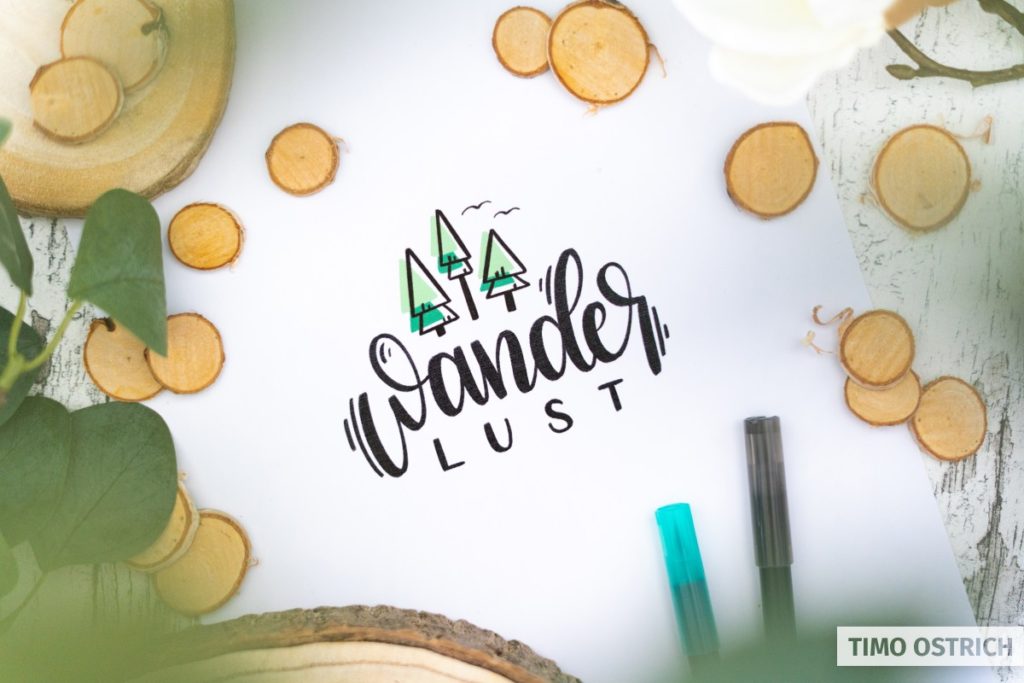 Enjoy
Dream
Live
Spring / Summer / Autumn / Winter
Now
Wanderlust
Thanks
Yes
Stardust
Beautiful
BeYOUtiful
Rainbow
Why?
Monday
Coffee
Make
Move
Love
Decide
Future
Supercalifragilisticexpialidocious
Destiny
Friendship
Family
Beach
Night
Day
Daughter
Son
Mother
Father
Shiny
2 words
I also like to create letterings with two or more words. You can start creating layouts and you are able to use different font styles! This adds a great character to your art works and makes the lettering even more exciting.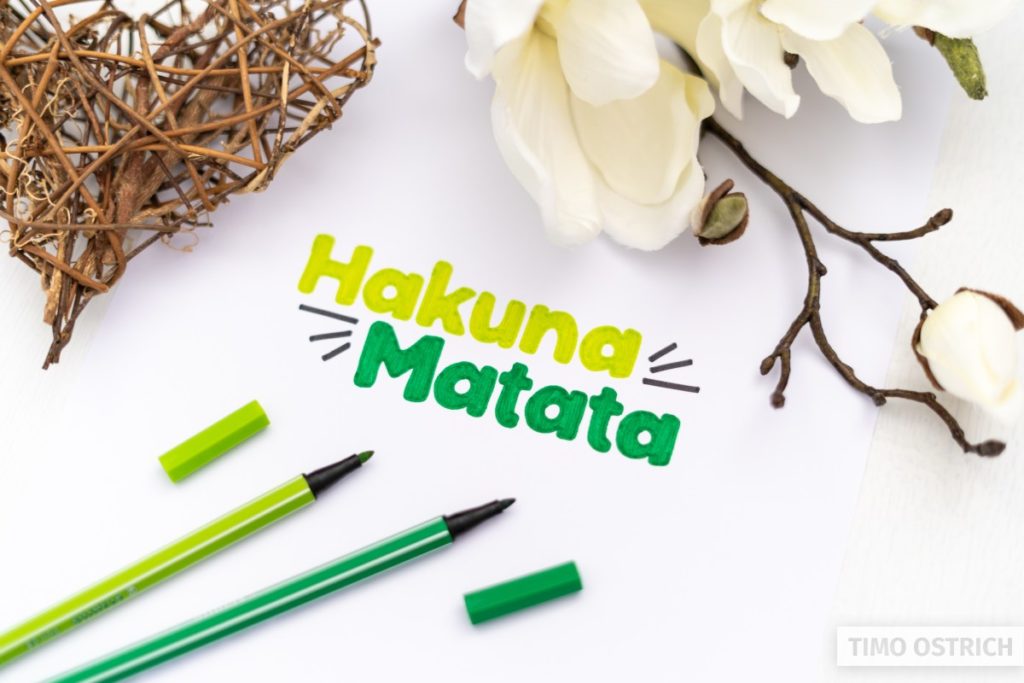 Start somewhere
Be true
No fear
Start now
Dream on
Enjoy life
Get up
Be proud
Think big
Hey you
Easy life
Have fun
Hey Hey
Good Morning
Hakuna Matata
Love ya!
Perfectly imperfect
Best friends
Best Mom
Best Dad
Challenge accepted
Thank you
Stay tuned
No bounce
Merry Christmas
Sweater weather
Best idea
3 words
The more words you use the more layouts you can create. These ideas allow to get creative with several types of writing. This kind of art can be very interesting, because you have more possibilities to use different fonts and arrangements.
Progress over perfection
Prove them wrong
Happiness is homemade
But first: coffee
Travel the world
Ignite your light
Believe in yourself
Never say never
You are beautiful
I love you
Can't forget you
Live, Love, Laugh
Enjoy your life
Never give up
Trust in yourself
Thinking about you
Stronger than yesterday
4 to 6 words
Collect moments, not things
Live for the moment
Snowflakes are winter's butterflies
Light up the darkness
Be your own kind of beautiful
Your patience is your power
Good things take time
I cannot forget you
Remember why you started
Life looks better in color
I can and I will
Without music? Without me!
Enjoy the little things
Turn the radio on
When nothing goes right, go left
Every letter makes you better (Timo Ostrich)
Life is better in Flip-Flops
Don't stop until you're proud
Do small things with great love
Let life surprise you
It's kind of fun
Never forget your past
Enjoy the sunny days
Do what makes you happy
Failure is success in progress (Albert Einstein)
One step at a time
Happiness is the best Make-Up
The best is yet to come
Wherever you are, be all there
Sometimes you win. Sometimes you learn.
Old ways won't open new doors
7 to 9 words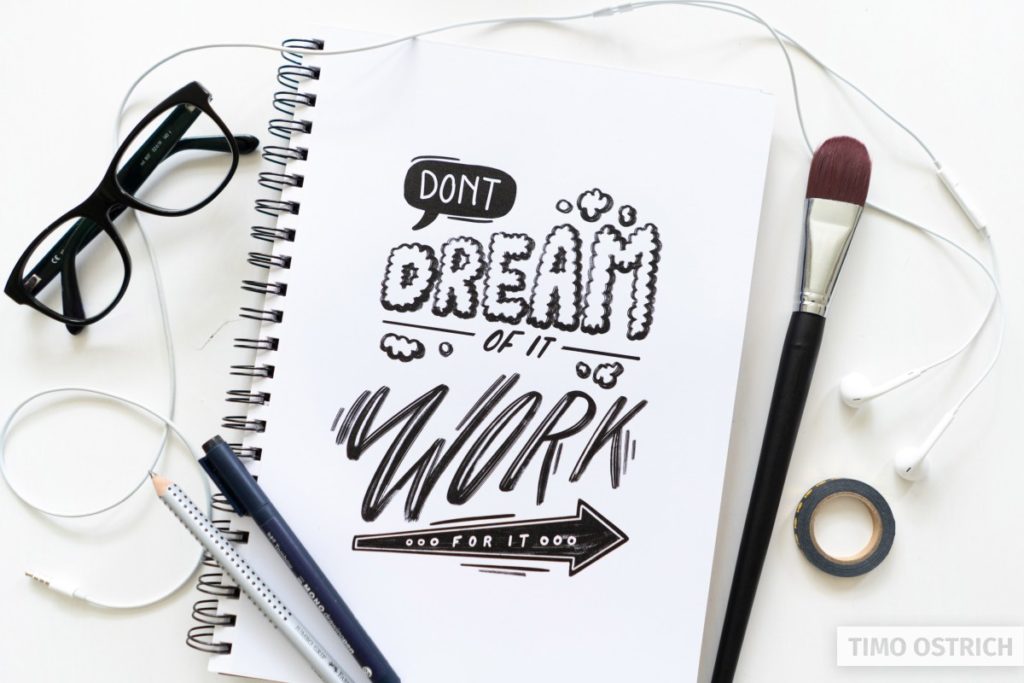 It's only cold, if you stand still
Life is a journey not a race
Together is a wonderful place to be
Start each day with a grateful heart
Be happy be true be lovely be you
It's beginning to look a lot like Christmas (Song by Meredith Willson)
Be good to people for no reason
Fact: Everyone smiles in the same language
Be a flamingo in a world of pigeons
Don't look back. You're not going that way.
The more you smile the better you look
Life doesn't have tob e perfect to be beautiful.
Don't ever let anyone steal your dreams.
Don't dream of it, work for it.
Look at usual things with unusual eyes. (Vico Magistretti)
Let your dream be bigger than your fear.
Believe you can and you are half way there
Tie a yellow ribbon round the ole oak tree (Irwin Levine / Russell Brown)
More than 9 Words
Happiness can be found even in the darkest of times if one only remembers to turn on the light (Albus Dumbledore)
I could travel the world and the ocean blue but I'll never be home till I'm with you
Sometimes, it's the little things that mean the most
Look up! Otherwise you are not able to see the stars!
At the beginning you need courage to be happy at the end.
Think positive! It's the only way to live a fulfilled life.
The secret of life? Learn from yesterday and live for today.
Distance means so little when someone means so much.
If you cannot do great things, do small things in a great way. (Napoleon Hill)
Quotes for Birthdays
A lot of people use hand letterings for their birthday cards and presents. Here are some quotes, that you can use to brighten up someone's day!
Happy Birthday
Happy Bday!
HappyhappyBirthday
It's YOUR day! Happy Birthday!
Cheers to the birthday girl/boy!
This is for a very special person
Enjoy your day!
Only the best wishes!
A lot of people were born today, but you are my favorite one!
Quotes for your big love
What would life be without love? Without the ones, that we love so much? With the following quotes you will be able to describe your feelings.
I miss you
I love you
Please don't leave me
Forever us.
Marry me?!
Life is great, because you are here.
Kiss me.
Thinking about you.
Love
Big hearts deserve big hugs.
You are the Best.
All you need is love
Love you to the moon and back.
Together forever
You and me
You are loved
Can't stop loving you. Never.
Happy Valentine's day
Life is better with you by my side.
Love is the answer
Just love
You are my everything.
Forever yours.
Quotes for weddings
You are looking for hand lettering ideas for your wedding cards? There are some special wishes, that you would like to let your friends to know? No problem! Here are some quotes, that might inspire you.
May your love never end.
Happy wedding
Just married
Mr & Mrs
Here comes the bride
Have a perfect wedding day!
Always and forever
And so the adventure begins.
Spread love
Two become one.
Yes. Just Yes.
What's your favorite quote?
Do you know any more nice quotes for lettering? Tell me in the comments!